Company History
The story of Universal Plastic & Metal Manufacturing Limited began over 40 years ago in February of 1977 when Mr. K Wong and his wife, Rebecca Leung, founded the company. Mr. Wong built the company's first asset – a disposable plastics gloves machine – by himself, and hired housewives to help fold and pack the gloves. As the business grew, they rented their first factory in Yuen Long, Hong Kong, and employed several staff.
In 1988, Mr. Wong and his wife seized the opportunity to relocate their factory operations from Hong Kong to Shenzhen, China, as China opened its doors to foreign investments. By 1995, the company had acquired its first property in China, a 3,000 square meter land in Dongguan, where they built their factory. With a growing customer base, they diversified into many different products such as aprons, shower caps, hairdressing capes, hotel amenities, and more.
In 1998-1999, Mr. Wong's two eldest sons returned home after graduating overseas to help their dad with the business. This period saw tremendous growth in international orders, and the product range expanded into carrier bags, disposable raincoats, buntings, bang bang sticks, equipment covers, and many other custom-made products.
In 2003, Mr. Wong and his wife retired from their daily duties in the business. To keep up with customer orders and the lack of space in their Dongguan factory, they purchased another land located in Jiangxi covering an area of 31,000 square meters in 2005, and transferred all their production lines from their Dongguan factory to the new Jiangxi factory, except for plastic carrier bags.
In 2014, Mr. Wong's youngest son returned home to join the business, reuniting all three brothers who were highly committed to carrying on their father's legacy. In 2015, their plastic carrier bags were also transferred to Jiangxi to make way for a state-of-the-art cleanroom in Dongguan to cater to their food packaging product line.
In October 2019, with promising and continued development in Jiangxi province, the company decided to consolidate all their production lines into one large factory. From 2019 to the present day, the company has grown from strength to strength, embracing changes as they occur and expanding into newer products such as compostable products, protective aprons and gowns, vacuumed bags for the food industry, and more.
Throughout their 40+ years of history, the company has maintained a head office in Hong Kong responsible for administrative, accounting, and managerial work. Today, all three brothers are co-directors, leading the company with passion, dedication, and a sense of pride in the business they grew up with.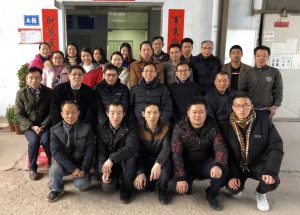 At Universal Plastic & Metal Manufacturing Limited, we believe in carrying on our founder's legacy of hard work, dedication, and innovation. Our commitment to growth and quality is unwavering, and we're proud to offer an extensive range of products to our customers. Join us on our journey to the top, and experience the difference that Universal Plastic & Metal Manufacturing Limited can make for you.